Super healthy green soup!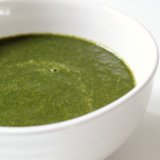 Mustard and Collard Greens Soup -phase 1-4, serves 4
as adapted from fitsugar
3 quarts organic low-sodium vegetable broth
1 bunch mustard greens, chopped (about 2 cups)
1 bunch collard greens, chopped (about 2 cups)
1 tbsp minced garlic
2 tbsp Bragg's Liquid Aminos 
2 tsp chopped peeled fresh ginger
Sea salt
Pepper
Combine all the ingredients in a large pot and bring to a boil over high heat. Reduce heat to medium, cover, and simmer for 20 to 30 minutes, until the vegetables are tender.
Working in batches, transfer the broth and vegetables to a blender or food processor and blend until smooth. Taste between pulses and add salt and pepper as necessary before continuing.
Serve immediately and refrigerate or freeze the remaining portion.