Easter Celebration!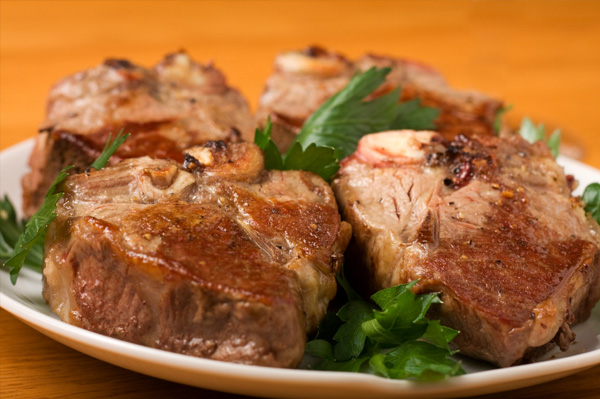 Spicy Easter Lamb Chops- phase 1-4, serves 8
as adapted from Sheknows
1 tablespoon curry powder
Pinch of cayenne
1 tsp dried oregano
1 tsp dried rosemary, minced
1 tsp sea salt
1/2 tsp freshly ground black pepper
2 tbsp olive oil, divided
8 lamb chops
2 tbsp water
In a small bowl, make a paste with curry, cayenne, oregano, rosemary, sea salt, pepper and 1 tablespoons olive oil and 1 tablespoon of water.
Rub spice paste all over lamb chops. Transfer to a baking dish, cover, and marinate overnight.
Heat an olive oil sprayed non-stick skillet over medium heat. Place chops in the skillet in one layer (do in batches). Brown chops on both sides, about 4 minutes each side.
Add remaining olive oil and water to the center of the skillet and swirl to distribute. Turn chops every 2 to 3 minutes until a meat thermometer inserted in the center registers 120 to 125 degrees F.
Transfer chops to a cutting board and let stand for 10 minutes before serving.
Sauteed Aspragus and Mushrooms- phase 1-4, serves 8
olive oil cooking spray
1 tablespoon olive oil
12 ounces fresh shiitake mushrooms, stemmed, caps cut into 1/4-inch-wide strips
Sea salt and freshly ground black pepper to taste
1 pound slender asparagus spears, ends trimmed, cut on diagonal into 1-inch pieces
1-1/2 teaspoons chopped fresh thyme
Finely grated zest from half a lemon
Heat an olive oil sprayed, large non-stick skillet over medium heat. Add mushrooms. Cook, stirring often, for 2 to 3 minutes. Season with sea salt and pepper and continue to cook until mushrooms are tender. With a slotted spoon, transfer to a plate and keep warm.
Add asparagus, thyme and lemon zest, and cook, stirring often, until asparagus is tender. Add mushrooms back to skillet and toss to combine. Taste and season with sea salt and pepper.
Transfer to a serving dish.